DIY: Petal Toss Cones
How I Did It
Materials (per set)
1 vellum or paper 8.5×11 or 8″x8″
3 feet of 3/8″ ribbon
adhesive or vellum tape
For stores, click here
Tools
scissors, cutter, computer, printer
Template
One paper cone can be printed on one 8.5″x11″ paper.  My template has four pages.  First page is an introduction. Second page is for the outside of the cone, third page for the inside, and fourth page includes an instructions diagram.  There are two available templates: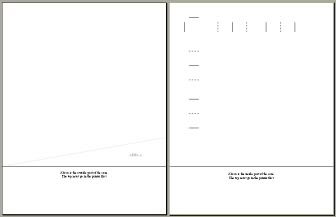 8.5×11 paper creates a height of approximately 12″
Click template above to download

8×8 paper creates a height of approximately 10″
Click template above to download
 There's also a template for a different style petal cone that you can download at diynet.com.
Directions
Print the first page (the outside), turn the paper, and print the second page on the back.  Using the cutter, cut through the solid and dashed lines.
Apply adhesive on area A.  Roll the paper so side B is on top of area A and covering it.  Press to glue them together.
Slide ribbon through the slits (the small cuts).  On solid line slits, ribbon goes from outside to the inside of the cone, while ribbon goes from the inside to the outside of the cone on dashed line slits.  Begin on slit C.  Leave about 8 to 10 inches or more (depending on where you're hanging the cone) of ribbon between slit D and E.  This loop will be used to hang your petal cone.  End on slit F.  An instructions diagram with the direction of ribbon, is provided with the template (similar to below).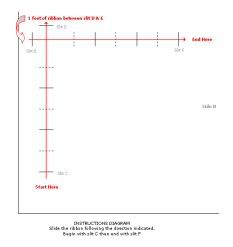 The two ends of the ribbon will end up in front of the cone.  Tie them together.  You can tie a tag with instructions, your monogram or name or whatever you choose, with the ribbon.  Fill it with petals and you're all set.