DIY: Day Of Timeline
How I Did It
Materials (per set)
1 80lb cover/cardstock 8.5×11
For stores, click here
Tools
cutter, round-corner cutter or scissors, computer, printer
Fonts used
CopprplGoth Bd BT, DebevicCircular, Futura Lt BT, Toots Extended
Template
Gather your background image and other cliparts.  I got mine from Microsoft Clip Art.  Two timeline cards can be printed on one 8.5″x11″ 80lb coverstock.  The card measures 5″x7″. Create your template with the background just big enough to cover your timeline not the whole paper.  You also have the option to buy a pre-printed paper and use that as your background instead of printing it yourself.  The templates below are for pre-printed paper.  Contact me for templates with the backgrounds.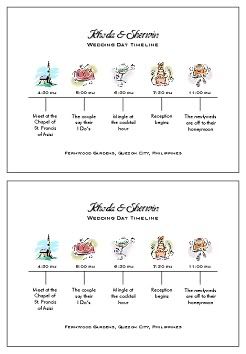 Click template above to download

Click template above to download
Directions
Cut on solid lines and you're all set.  If you're using a pre-printed paper, just print the white area of the timeline.  Cut on the lines and paste it on your pre-printed paper.