DIY: Invitations
 How I Did It (Blue Version)
Materials (per set)
1 Ribbon Tie Pochette 7 1/4″ Square
(to make your own pochette, you will need one 80lb cover stock 12×12)
decorative paper
28lb (or lighter so the background shows through) vellum
80lb cover/cardstock
1 yard 1.5″ ribbon
1 Square Envelope 7 1/2
(Inner envelope is not necessary. The pochette is good enough)
vellum tape
adhesive
For stores, click here
Tools
cutter, round-corner cutter or scissors, adhesive, computer, printer, scoring blade or bonefolder (if making pochette)
Recommended
Rotary Paper Trimmer
(cutter), Fiskars Scoring Blade (to be used with Fiskars rotary trimmer), Herma Dotto (adhesive)
Directions
Create a text box in MS Word with dimensions 6 3/8″ x 6 3/8″. Create your invitation text in the text box. Print on vellum and cut on the lines. Use a round-corner cutter or scissors to round the corners. For best results, print using a laser printer or photocopier. Inkjet/deskjet printers use ink (not powder) and ink may smudge on vellum.
Cut decorative paper to 7″x7″. Paste the vellum invite on the center of the decorative paper using vellum tape. Glue the whole invite to the pochette.
Using the Envelopes and Labels wizard in Word, create your reception and RSVP cards using the Business Card label option/template. Print and cut. Cut a strip of the decorative paper with a width of 3/8″. Glue the strip to the bottom of the cards.
Cut two slits on each side of the pochette (as shown in picture above). Insert reception and RSVP through the slits. If you're concerned about the slits and parts of the cards showing on the outside of your invites, don't be when using the pattern below. When the pochette is closed, the other flaps cover the slits and the parts of the cards.
Insert ribbon through the pochette slits, close pochette, tie ribbon to a bow, and the invitation is done.
Making your own pochette
For a 7 1/4″ Square Pochette, you will need 12×12 80lb cover or cardstock. See below for pattern. Cut on solid lines. The slits on the side flaps are optional for reception & RSVP cards. Score on dashed lines and fold and you now have a pochette.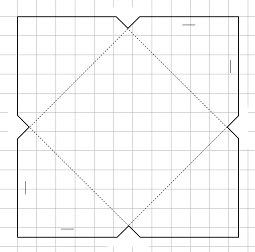 each square = 1″
Click here for 5 1/4″ template